Bieye
Wheat from chaff for cyber staff
An interception and intelligence system can be a bore.
But not at 5IVE! we made the system feel like a computer game, that cyber millennials can really relate to.
Services
Research, Product ideation, Branding, Usability testing, UX Architecture, UX design, UI design
Categories
Cyber | Intelligence | Data Security | Analytics
Challenge
Security agencies and police forces obtain valuable data by intercepting suspects' mobile devices. The challenge was to come up a surveillance system that would allow users to distill the true suspects from the crowd.
Solution
5IVE employed design thinking techniques which resulted in a unique solution that incorporated a frequency scanner metaphor as well as an innovative "magnifying glass" approach.
WIREFRAMING
We let users sort wheat from chaff using two dimensions simultaneously – map and list. However both were implemented in an unconventional way. As for the list – we went for a horizontal bar-chart like list that displayed the suspects' initials only, in fact it became more graphical than textual. As for the map – we used prominent over-the-map infographics, which turned the map into a kind of dashboard.
DESIGN
Our design was inspired by astronomy infographics. Suspects' information was encircled within planet-like shapes that radiated cosmic glow. The suspect bar control at the bottom was designed with astronomical maps in mind, and even the rather conventional right pane hosted only spherical shapes. This resulted in an enchanting yet professional atmosphere, that is so desired in the cyber world. The devised solution proved to be extremely powerful, it let users extract the valuable information they needed – amazingly quickly.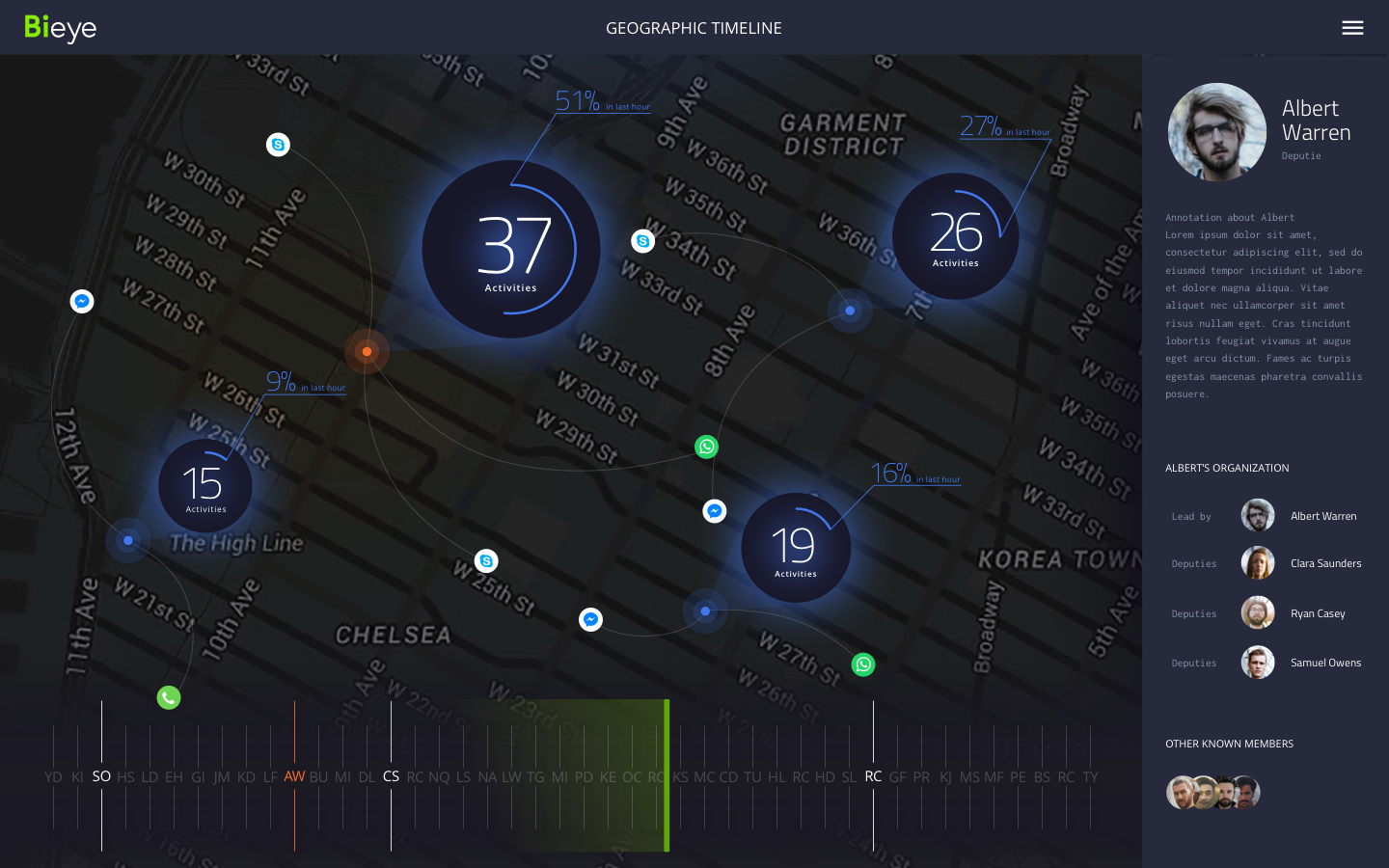 NEXT PROJECT