Gong
DESIGN THAT SERVES THE REVENUE CURVE
GONG, A UNICORN ($200M RECENT RAISE), IS THE #1 PLATFORM FOR REMOTE SALES TEAMS. GONG ASKED US TO SOLVE THEIR MAIN CHALLENGE: THE UX OF THE SALES CONVERSATIONS ANALYSIS.
WE JUMPED IN FULL FORCE AND CAME UP WITH AN INNOVATIVE YET COMPREHENSIVE SOLUTION – THAT DID THE TRICK!
Services
UX design, UI design
Categories
Revenue Intelligence | Sales | AI | Analytics | BI | B2B | Voice
Challenge
Gong's powerful artificial intelligence provides tons of valuable information, but then the main analysis screen and its periphery may become crowded and cumbersome to operate. So Gong asked us to step in and do our magic.
Solution
The solution rested on three pillars: Extracting myriad bits of information into aggregative dashboards; analysis based sizing and positioning of UI elements aimed at maximizing the operational efficiency (FITTS's law in mind); and implementing some of 5IVE's information visualization tactics.
WIREFRAMES
There are so many UI elements to display... Therefore crystal clear visual grouping becomes imperative. To realize that we extensively employed the Gestalt principles, especially the Similarity principle, the Proximity principle, and the Common Region principle. It was an undeniable success - indeed users can effectively scan and sort out the information in a matter of seconds.
DESIGN
Gong asked us to create the user experience, not the graphic design. But for the sake of the completeness we demonstrate here the graphic design as made by Gong.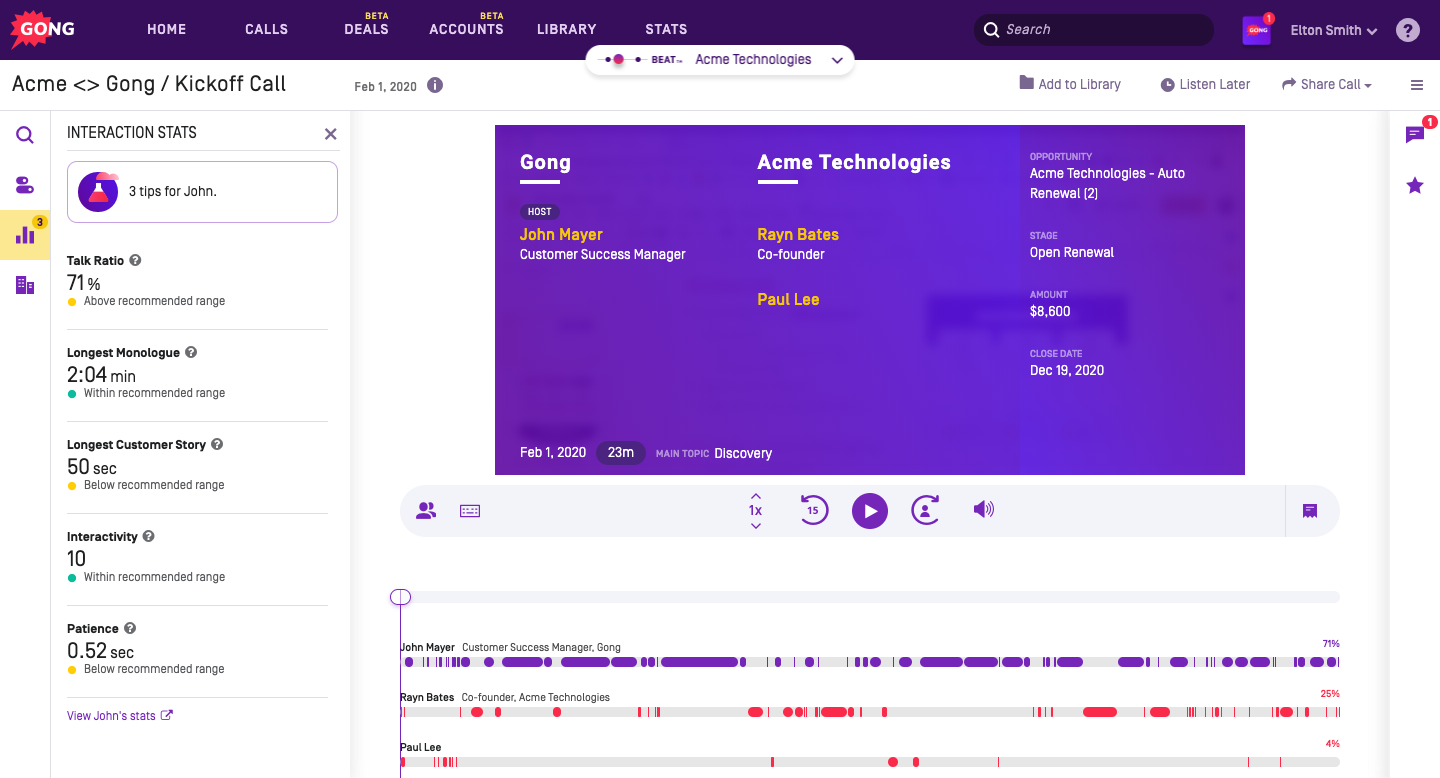 GONG RAISED $200 MILLION
GONG Raised $200 Million at $2.2 Billion valuation, and has grown 2.5x in 2020, enabling companies to sell in the remote work era.
NEXT PROJECT