Zerto
Writing the partiture of orchestrated IT resiliency
Zerto created the only all-in-one IT Resilience Platform, converging Disaster Recovery, Backup and Cloud Mobility in one platform.
We 5IVERS cracked the UX challenges and transformed a complex system into an easy to use human interface.
Services
UX Architecture, UX design, UI design, Prototyping, Ideation
Categories
B2B | Networks | Backup | Data Protection | IT | Dashboards
Challenge
When a single system needs to orchestrate disaster recovery, replication, migration, backup and data protection, user experience becomes a make or break deal – and 5IVE was approached.
Solution
The UX concept streamlined the myriad processes involved by building upon a combination of non-persistent tabs, custom visualization components, and wizard based operation workflows.
WIREFRAMES
We incorporated a novice concept of Smartabs™ across the Zerto solution. The concept applies when a dashboard comprises several tabs, each pertaining to a specific functional aspect. Instead of the usual – simply placing the tab's title at the tab heading, we placed there a micro-dashboard that summarizes the relevant information. This way users can judge the status of the various functions just by glancing at the tab headings, and click only these tabs that truly require further scrutiny.
DESIGN
Red is Zerto's main brand color. Red evokes energetic and passionate yet aggressive and provocative response. We indeed incorporate red in our UI palette, but we chose to balance it with another color: blue. Blue is associated with trust, responsibility and security, which are exactly the emotions we want to evoke in a data resiliency platform.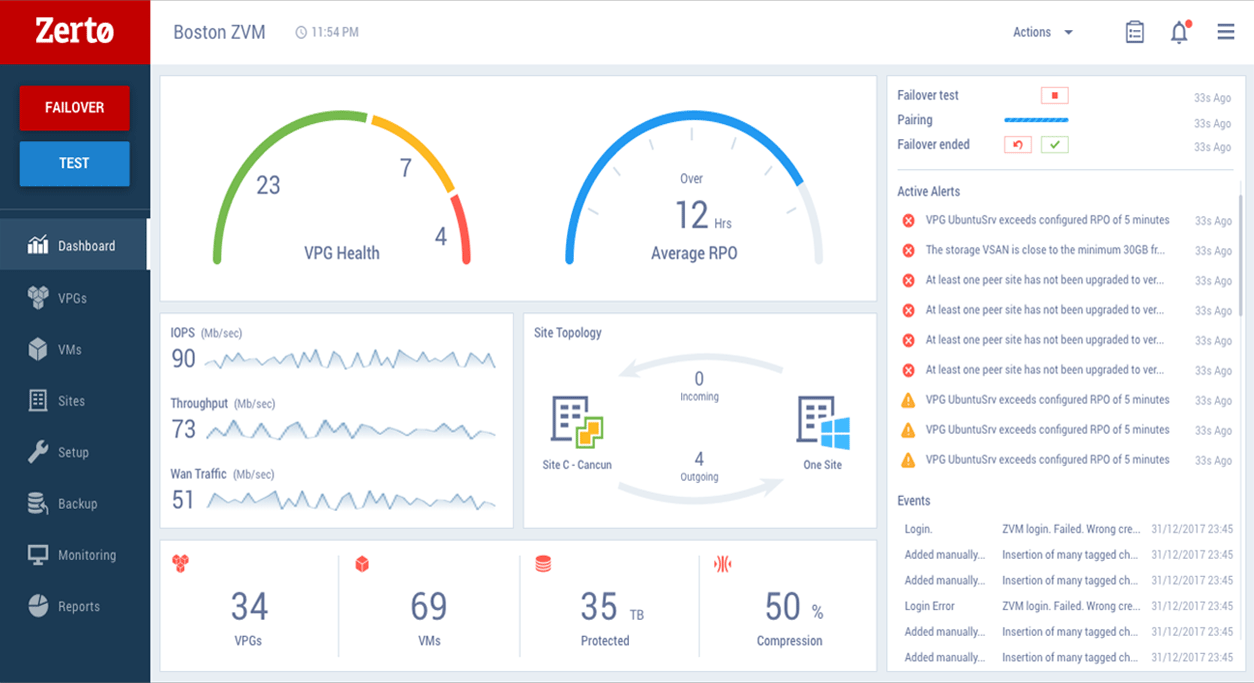 CUSTOMERS LOVE IT
The solution was launched as part of Zerto Virtual Replication 4.0 (and then 5.0), and customers simply love it, reporting that complex activities are smartly mapped to linear workflows.
NEXT PROJECT